Special offer hot-dip galvanized bar tables with clear lacquered wooden top 80cm round optional with umbrella holder and hole for umbrella. Zinc corrodes, like many other metals, but very slowly. Corrosion protection by zinc, like also the protection for the zinc surface, the corrosion protection is therefore a question of the formation of dense, firmly adhering dark grey cover layers. For this reason, hot-dip galvanized iron appears very stained when freshly galvanized, because these protective layers spread further and further, the surface will become more even in the future. The corrosion takes over the function of a protective layer, also called zinc patina, which protects the underlying zinc from further corrosion attacks.
Please click on the picture for detailed view/further information.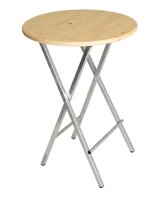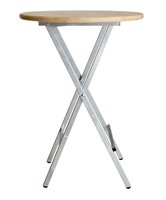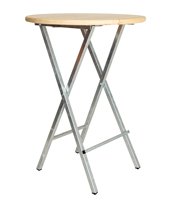 Our hot-dip galvanized bar table frames are suitable for wooden panels from 70cm to 90cm and are slightly narrower than our galvanized ones. The used material is square profile tube 30mm X 30 mm X 2,1 mm.