Brewery sets with galvanized fittings in XXL format.
The benches have reinforced bench racks with a width of 32 cm and can be occupied by up to five people per bench. If your guests have the idea to set up a bench and sit back to back on one of these benches for fun with 10 people then you don't need to be afraid because these benches will endure that. The brewery set model 169 galvanized in XXL format without backrest is also available as Table and benches set model 176 with backrest.
Please click on the picture for detailed view/further information.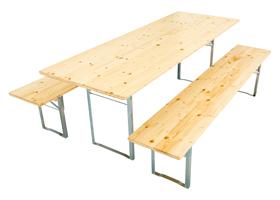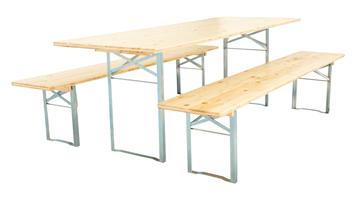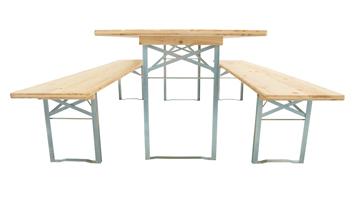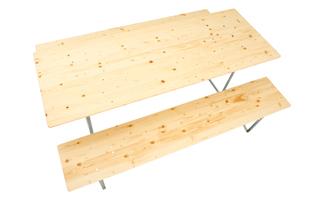 Brewery fittings with galvanised and matt black powder-coated fittings.
The fittings are galvanised and additionally powder-coated in matt black. The zinc coating under the coating creates a double rust protection, should the surface of the table or bench frames be scratched, then you still have the zinc coating as rust protection. The table and bench frames can also be coated in other colours on order, the delivery time for other colours then increases by 5 to 8 days. The snap locks are always galvanized, because in powder coating the metal parts are heated to over 200 degrees, and the spring in the snap lock loses part of its force.
Model:

169

Table height:

selectable 74 or 77 cm

Table width:

from 50 cm to 80 cm possible

Frame width table:

44 cm

Frame width benches:

32 cm

Wood surface:

Clear lacquer

Frame colour:

galvanized optional galvanized + powder coated

Thickness:

27 mm
Back to overview: 80er brewery set with 40 cm benches