The table and benches sets have galvanized fittings and are available with Douglas fir and spruce wood
These table and benches sets have standard dimensions in principle, but the table is 8cm wider and offers your guests more space to eat and drink. The dimensions of the table are 220cm X 58cm. The classic standard dimension for marquee furniture in Germany is the standardised length of 220cm and a table width of 50cm. For the benches of older sets, a seat depth of 25 to 27 cm was used, depending on the manufacturer. Newer tent furniture has seat depths of 27cm or 29cm. Benches with seat depths of 25cm are almost no longer produced. Green lacquered, black lacquered and galvanized fittings are available from stock. Galvanized feet can be powder-coated in all colours for an extra charge.
Please click on the picture for detailed view/further information.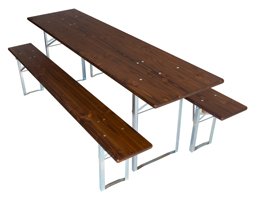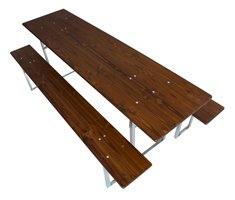 Table and benches sets are called Heurigen sets in Austria.
Heuriger sets have a standard length of 200cm. All other dimensions are identical to the marquee sets used in Germany. The classic Heurigen set has a length of two metres, a table width of 50 cm and two benches with a seat depth of 27 cm.
Back to overview: Benches and table sets 220 cm X 58 cm Douglas fir dark glazed