Pub table and benches set 164cm with 80s table, wood colour ebony
The Pub table and benches set 164cm with 70er table in the wood color ebony offers place for 6 persons. These pub sets are available with galvanized, black lacquered or green lacquered frames. These pub sets are optionally available with powder-coated frames in all colours. With powder coatings galvanized table and bench racks are used in principle, thereby one receives a double rust protection.
Please click on the picture for detailed view/further information.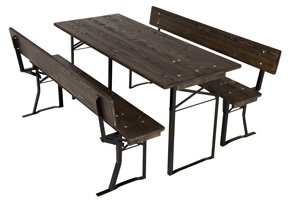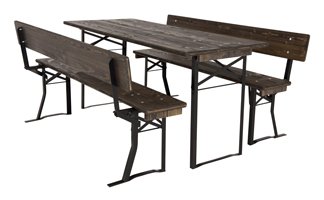 Lasures on our marquee sets create a very high UV resistance
The colour pigments in our glazes provide excellent UV resistance, because the colour pigments prevent UV radiation from reaching the wood. There is no greying or bleaching of the wood surface. This change in colour is also called patina or silver cast.
A UV coating does not protect against UV radiation at all for pub sets.
UV varnishes are cured within seconds under UV lamps. This is a great advantage in the production of mass-produced goods. Without UV-resistant dyestuff, however, these coatings have no UV protection at all. With dye, a UV coating has very good UV protection if this dye is UV light resistant, but only until the coating peels off. Then the coating is off and so is the UV protection. All wood varnishes are on top and peel off under the influence of the weather. However, our thin-film glazes never peel off because they do not form a film, i.e. they do not lie on top but penetrate into the wood.
Fixed pub set model:

120

Seats:

6 persons

Bench lengths:

164cm

Bench width:

29cm

Backrest height:

33cm

Table length:

164cm

Table width:

70cm
Back to overview: Fixed pub set 164 cm with 80s table wood colour ebony