As a manufacturer we can produce all variants, sizes and colours of round tables and benches.
The smallest round set has a table diameter of 120 cm, with max. 12 seats when set up with four round benches. As manufacturer we can produce all variants, different sizes up to 240 cm table diameter and colors of round table and benches sets and also. We can also consider almost all special requests. The benches of all models always have a length of 140 cm.
Round set with round table 120 cm
The 120 round set is the smallest sensible size of round table and benches sets. If smaller round tables are used, the bends of the benches become too strong. These strongly bent benches are not stable enough, one would need a very long boom to the rear, which then becomes noticeable as a tripping hazard. Other manufacturers use smaller tables with a diameter of 100 cm to 110 cm in connection with round benches not adapted to the table or shorter benches with narrow seats. The disadvantage of these unadapted benches is that not all guests can sit at the same distance from the table or only two people can sit on one bench. If the table size is reduced by 10 cm, the number of maximum seats is reduced by almost half.
Please click on the picture for detailed view/further information.

Fixed tent set with rotary table 150 cm
The round marquee set with 150 cm round table is the largest model that can be supplied with a one-piece table. The rotary table can be supplied with four individual legs or with a scissor frame.
Pub, picnic, bar set with split round table 200 cm
Our table and benches sets with divided 200 cm round table need 6 benches to full circle, thereby creating seats for 18 people. The round table consists of two segments, each with three legs. The table halves each have three legs and can also be set up individually. Folded together, one is 6 cm flat.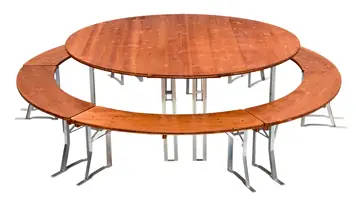 Back to the overview: to the homepage of our Pub, picnic, bar tables and benches and garden furniture