Special productions of sets are available from us within eight days.
With our glazes we can coat the wooden boards of our table and benches sets and picnic tables, pub tables and bar tables with almost all RAL colours. The emphasis is on almost all RAL colours, because with some colours so-called glitter effects can be mixed by metal particles into the colours, these few colours can not be glazed. These few colours cannot be used with thin layer glazes. One reason for this is that thin-film glazes penetrate deep into the wood, leaving these metal particles on the surface. Another reason is that the almost matt surface would not create a glitter effect. In order to create a glitter effect, the metal particles must be embedded in a thick, glossy or even better in a high-gloss lacquer layer.
Please note: For technical reasons it is not possible to produce shorter festival tent sets than 1 meter.
Please click on the picture for detailed view/further information.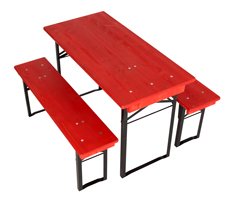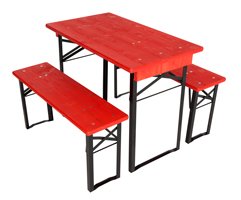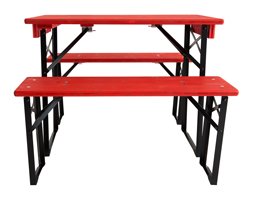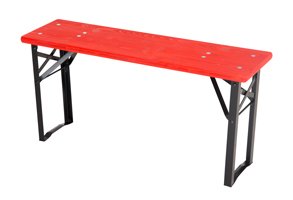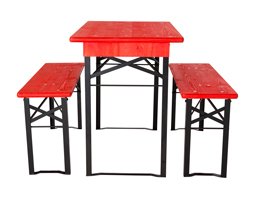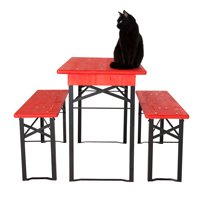 The table frames have a length of 74 cm and must be foldable. 6 cm are required for attaching the stacking strips, even if the table frames are only 74 cm long and for the most part fold over one another, at least 90 cm are required for the table frames with snap locks. If the stacking strips were not used, the absolutely shortest possible table would be 92 cm long. With this table, the table legs would then be mounted completely on the outside and the mounting of a stacking strip is no longer possible.
Fixed tent set model:

303

Length:

100 cm
Marquee set, table and benches set 120 cm racks standard
The three-layer wooden panels from which we make our table and benches sets are five metres long. Up to a maximum length of 124 cm it is possible to produce four wooden panels from them. From 125 cm to 164 cm a price jump occurs, because only three board sets can be manufactured from it. A production of table and benches sets according to your wishes including special productions is no problem for us, we can produce and deliver these promptly.
220 cm length is the standard for table and benches sets in tent rental and leasing.
The commercial use of marquee sets in tent rental is about providing as many mobile seats as possible with the lowest possible transport costs. For this reason, a length of 220 cm is optimal.
Tables, benches and various installation options for marquee sets
Deliveries within Germany are possible within one to two days. In the case of custom-made products, we first have to produce, which increases the delivery time to four to eight days. Designs with fast-drying wood surfaces are available within four days at the latest.
Back to overview: Table and benches set RAL 3001 Racks black